Available Tickets
My Best Friend (Mi Mejor Amigo)

Thursday, September 20th, 2018 7:00 pm

Lorenzo lives in the quiet Patagonia of Argentina. He is a quiet teenager, intelligent, a good student, curious, and more skilled in music and literature than sports. Lorenzo's father decides the family will temporarily take in his best friend's son, Caito. Caito lives in Buenos Aires and has a different background and tough kid machismo and style which Lorenzo finds intriguing.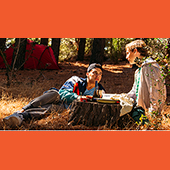 The Classic Gateway Theatre