Available Tickets
Men's Spotlight Film: Just Friends

Saturday, October 20th, 2018 7:15pm

Joris is very attached to his plastic surgery addicted mother, while freewheeling med student Yad is forced by circumstances back home to his strict mother. The two meet and seem to be made for each other, and want to become more than "just friends". But before they can surrender to their love they first have to balance things with their mothers--which will not be easy. Just Friends is a romantic comedy sure to touch your heart.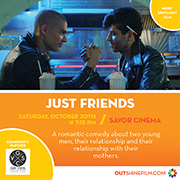 Savor Cinema