Available Tickets
Opening Night Film & Party: Studio 54

Thursday, October 18th, 2018 7:00pm

Studio 54 was the epicenter of 70s hedonism – a place that redefined what a nightclub could be but also came to symbolize an entire era. Ian Schrager and Steve Rubell came out of nowhere to preside over a new kind of New York society. With unprecedented access to Schrager, who tells the whole unvarnished story for the first time, and a treasure-trove of rare footage, director Matt Tyrnauer constructs a vivid, glorious portrait of a disco-era phenomenon.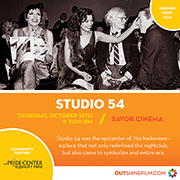 Savor Cinema