Available Tickets
Centerpiece Film: Girl

Thursday, October 25th, 2018 7:00pm

Fifteen-year-old Lara's goal is clear: to become a professional ballerina. Supported by her father, she attends a prestigious dance school, dedicating herself to the grueling journey. But the frustrations and impatience of adolescence intensify as she gradually faces the daunting challenges classical ballet imposes on the body of girl born in a boy's body. Winner of the Camera d'or and Prize of the Best Actor at this year's Cannes Film Festival.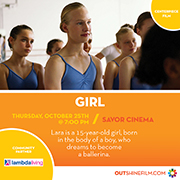 Savor Cinema