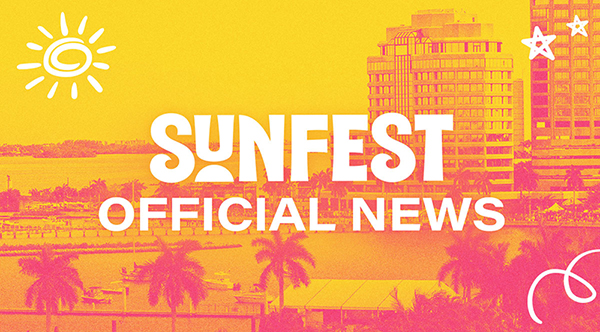 SUNFEST WILL NOT MOVE FORWARD WITH 2021 FESTIVAL
In the fall, we began planning a scaled-down version of the festival for 2021. While we knew that hosting a traditional SunFest would be challenging, we believed our fans' possible rewards were worth the attempt. We were driven by the idea that our community needed something to look forward to.

We have seen great uncertainty from artists about putting their fans into a large music festival setting. Unfortunately, this is the current state of the touring industry. Given this feedback, we have determined that we cannot go forward for 2021. SunFest, without enough notable musical artists, simply is not SunFest, and we believe we owe our fans more than that.

 After looking at options, it was decided to save every available resource towards producing the best possible SunFest 2022. We share everyone's disappointment, just as we share the concerns that so many people have expressed.

 As a way to thank you for rolling over your 2020 ticket purchase, we are offering you a "Share SunFest with a Friend" ticket*. Your SunFest 2020 ticket purchase will be good for SunFest 2022 and will also provide you the opportunity to bring a friend on us. Based on the ticket type purchased, you will receive complimentary ticket(s) for SunFest 2022.   At a later date, SunFest will email you revised tickets that are valid for SunFest 2022, along with your bonus ticket(s).   Each ticket buyer will receive a separate email based on your ticket type detailing your complimentary ticket offer.   

Save the date of Thursday, April 28 – Sunday, May 1 for SunFest 2022. For more information about SunFest or to inquire about the ticket roll-over plan, please visit www.SunFest.com or email info@sunfest.com.
*Share with a Friend offer does not apply to pre-paid parking or donation vouchers.