Available Tickets
Wounded by the Wind (Las Heridas del Viento)

Tuesday, April 24, 2018 9:00 PM

A woman is bringing up her high-school son alone. While she has established a close bond with her son, she did not know he is gay and only finds out after he is seriously injured in a car accident. She takes out her confusion and anger on her son's close friend, but the young man deals with the situation more calmly and with greater wisdom than she does. Brought to vivid emotional life by an excellent cast, the film confronts Korean homophobia and depicts a mother-son relationship with searing clarity.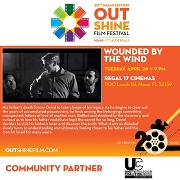 Regal Cinemas South Beach