Available Tickets
Hard Paint (Tinta Bruta)

Friday, April 27, 2018 9:00 PM

Hiding behind colors, a fluorescent soul comes to life. While facing criminal charges, Pedro must grapple with his sister's sudden decision to move away and leave him behind. Alone in the darkness of his bedroom and covered in neon paint, he dances while thousands of strangers watch him via webcam. His loneliness is broken when he meets another dancer and together they can chase their dreams. Hard Paint paints a melancholic portrait of how the burden of being different...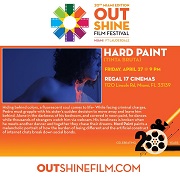 Regal Cinemas South Beach