Available Tickets
Your Will Be Done (So Auf Erden)

Thursday, April 26, 2018 9:15 PM

When a grandmother's (Piper Laurie) secret past collides with her granddaughter's (Emily Baldoni) secret future and her daughter's (Brooke Adams) angry present, can the love of three generations be enough to accept decades of deceit? Deceit uncovered within a box containing a simple roll of film. Within the box lie secrets of love lost, love betrayed and love wanting. Set in the present with flashbacks to the early 1960's, Snapshots shows the strength and resilience of people as they cope with...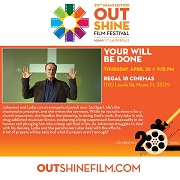 Regal Cinemas South Beach