Available Tickets
Freelancers Anonymous

Sunday, April 29, 2018 2:30 PM

A quick-paced comedy with a group of women who come together to launch a tech start-up. Billie, on impulse, quits her soul-sucking office job and is left to figure out "now what?" She meets a ragtag group of women also looking for employment and is struck with the idea of cultivating their skills to create an app for freelancers. While the start-up is starting up, Billie is also in the throes of planning a wedding to her longtime girlfriend. Juggling wedding plans and a startup, is there an app for that?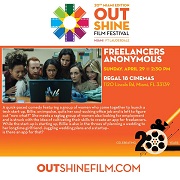 Regal Cinemas South Beach