Available Tickets
From Baghdad To The Bay

Sunday, April 29, 2018 3:00 PM

Ghazwan Alshari had his dream job, translating for the U.S. forces in Iraq. But his dream turned into a nightmare when accused of being a double agent. With his, and his family's, life in jeopardy, Ghazwan fled Iraq and settled in San Francisco. Struggling and alone, Ghazwan reveals that he is gay. Facing these challenges, yet with a new sense of freedom, Ghazwan, with his effervescent personality, seeks to become a professional chef. Ghawan's turbulent and ultimately joyous journey is nothing less...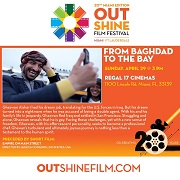 Regal Cinemas South Beach