Available Tickets
Misty Eyes (Los Ojos Llorosos)

Thursday, April 26, 2018 9:00 PM

Alice is diagnosed with AIDS and the confusion as he starts his treatment is overwhelming. Making it more difficult is his addiction to cocaine plus his inscrutable character sink him deeper into depression. He desperately seeks refuge in his former partner, a reunion that not only revives the love and affection but also falls back into old bad habits that strain the relationship. The news of Alice's illness shakes his entire family, but through all the turmoil...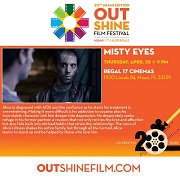 Regal Cinemas South Beach