Available Tickets
Cherry Grove Stories

Wednesday, April 25, 2018 9:00 PM

In an era when it was illegal for two men to hold hands in public, the pristine beachfront hamlet of Cherry Grove on Fire Island in New York was a safe haven for gays who were often targeted for arrest and prosecution. Through interviews with residents and new and archival footage, Michael Fisher's oral history of the enclave uncovers long-hidden secrets and exposes little known stories that are more relevant than ever today. Cherry Grove Stories documents the community in its nascency...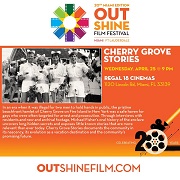 Regal Cinemas South Beach