Best Seat Available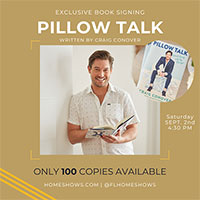 SATURDAY PASS
Broward County Convention Center - FTL Home Show
–
Valid Saturday, September 2, 2023
The Book Signing will take place on Saturday, September 2 at 4:30pm (only).

Books will be received at the designated area where the book signing will take place, next to the Home Design Stage. Those who have purchased, must have a valid ID and proof of purchase to claim their book.

No refunds. No exchanges.
Broward County Convention Center - FTL Home Show